Press8 Telecom helps businesses in Dallas
save money and be more productive.
Keeping Dallas Businesses Running with VoIP
VoIP Hosted PBX Dallas
Press8 Telecom is a highly respected Dallas VoIP provider offering comprehensive services for reliable, safe, and secure VoIP-hosted PBX business phone systems. Replacing traditional analog phone systems in your business with cloud-based VoIP phone systems Dallas businesses rely on cuts down on costs while providing the latest tools and features to increase productivity throughout your organization.
Some of the features that you get with Press8 Telecom include:
Unlimited Long Distance (US 48 & Canada)
An Auto Attendant
Dial by Name Directory
Hunt Groups
Conference Bridge
Call Queues
Call Reports
Call Recording
Onsite Installation & Training (for Texas customer)
Online Portal
Smartphone APP (work from anywhere)
Voicemail to Text Transcription
Press8 Awards & Reviews
Integrity and commitment
Dallas VoIP provider with solutions for a changing world
The adjustments the world has made in the wake of the coronavirus have universally changed the way business is conducted. The VoIP phone systems Dallas businesses rely on for seamless communication channels and funnels to keep operations running as smoothly as before.
From small service businesses to corporations with thousands of employees around the globe, it has never been more critical to have a reliable phone and communication system in place. Mobile and remote applications are no longer a luxury for running a successful business. Overnight, being able to communicate with employees and customers requires the flexibility of VoIP phone systems Dallas industries rely on for their daily operations.
Advantages of VoIP phone system over traditional business phone system
The main difference between VoIP phone systems Dallas businesses use compared to traditional business phone systems is that a Dallas VoIP provider uses existing broadband internet connections instead of phone lines that need to be installed, maintained, and repaired.
Among the advantages and benefits this creates include:
Easy installation process
Flexible for expansion, downsizing, or moves
Low financial output
Standard features that are additional charges with analog phone systems
Mobility and remote capabilities
Free, unlimited long-distance calling
The biggest advantage VoIP phone systems Dallas businesses enjoy is the total control and wide range of management options that make your business phone system entirely customizable for your company's ever-changing needs and preferences.
Why choose Press8 Telecom?
The communication professionals at Press8 Telecom are in a unique position to provide a valuable service to help businesses of all sizes and kinds. An impressive team of engineers and technicians has been creating and refining the most effective and affordable methods of office phone communication since 2006. We are now a highly respected Dallas VoIP provider with hands-on experience and training to handle the challenges that require customized short-term and long-term solutions.
Get started saving money with Press8
Get started today toward setting up a phone system for your business that can handle these times of remote working and mobile accessibility requirements. Contact Press8 Telecom today for complete information on our wide range of Dallas VoIP services to help get you through the toughest times and into a brighter future for everyone.
Press8 Telecom is Better
VoIP Phone System Experts
Award Winning Customer Support
More Powerful Features
Custom Setup and Maintenance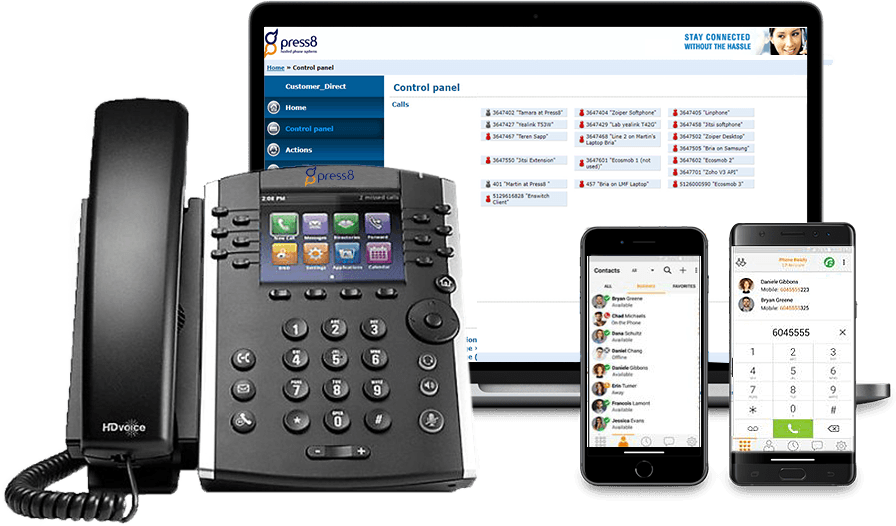 Dallas, Texas – One of the best cities for business
Dallas, Texas uses Press8 Telecom for Small Business VoIP Hosted PBX
Ninth largest city
As the ninth-largest city and part of the fourth-largest metropolitan area in the nation, Dallas covers approximately 343 square miles and has a population of 1,241,162. The ultra modern and sophisticated city attracts worldwide travelers, making the area the No. 1 visitor and leisure destination in Texas. Dallas is centrally located and within a four-hour flight from most North American destinations.
Icon for transportation
DFW International Airport is the world's fourth busiest airport, offering nearly 1,750 flights per day and providing non-stop service to 145 domestic and 47 international destinations worldwide annually. In addition, Dallas Love Field Airport is conveniently located 10 minutes from downtown. Once here, visitors can ride DART, one of the fastest-growing light rail systems in the nation or the historic, free McKinney Avenue Trolley from the Dallas Arts District throughout the Uptown area with its restaurants, pubs, boutique hotels and shops.
Dallas – Four star food & entertainment
Throughout the city, a visitor will enjoy the best shopping in the southwest, four-and five-diamond/star hotels and restaurants, the largest urban arts district in the nation, more than 13 entertainment districts and much more. Blend in moderate weather, year-round sports and true Southern hospitality for a true "taste" of the Dallas difference.
Dallas - Optimism meets opportunity
Visitors are exposed to a city of success … where optimism meets opportunity. Its pioneering spirit is alive and well, and the philanthropic contributions from its many residents continue to enrich the community and quality of life. Dallas – Leading Business & Meeting City Dallas is also a leading business and meeting city. In 2012, 18 area businesses were named Fortune 500 companies, including Exxon Mobil, Southwest Airlines and Texas Instruments. Dallas & Press8 Telecom – Go Local.
Dallas Proud
When looking for a VoIP-hosted PBX provider, look in your backyard. We have been serving Dallas, TX since 2006 and even offer onsite installation & training.
For a Free Quote call: 214-666-6668.