Save $$ On Your Phone Bill
We make sure that the phone bill does not burden your pocket. By switching to a VoIP business phone system, you can save up to 60% on your monthly phone bill.
Keep Your Phone Numbers
When you switch to Press8, we will immediately start porting your current phone numbers for you. In addition, we will set you up with your own concierge who will set up all your users, calling trees, and features for you.
Custom Setup & Training
In addition, once you are a new Press8 customer, we will assign a setup specialist for you. They will set up a VoIP PBX system for your small business, and make the process an easy one.
Enterprise Features
Press8 Telecom offers over 50 free enterprise features to boost your small business. Thus, they can finally compete with the giants of the industry.
Unlimited Scalability
It is not only your business that needs scaling, but rather your phone as well. With Press8, you can add or remove features or users quickly and easily.
No Busy Signals
Are you tired of losing customers because they keep getting a busy signal? At Press8 we offer Auto-Expanding Lines, which means your callers never get a busy signal.
Experience the Press8 Phone System Advantage
Press8 Telecom is Better
VoIP Phone System Experts
Award Winning Customer Support
More Powerful Features
Custom Setup and Maintenance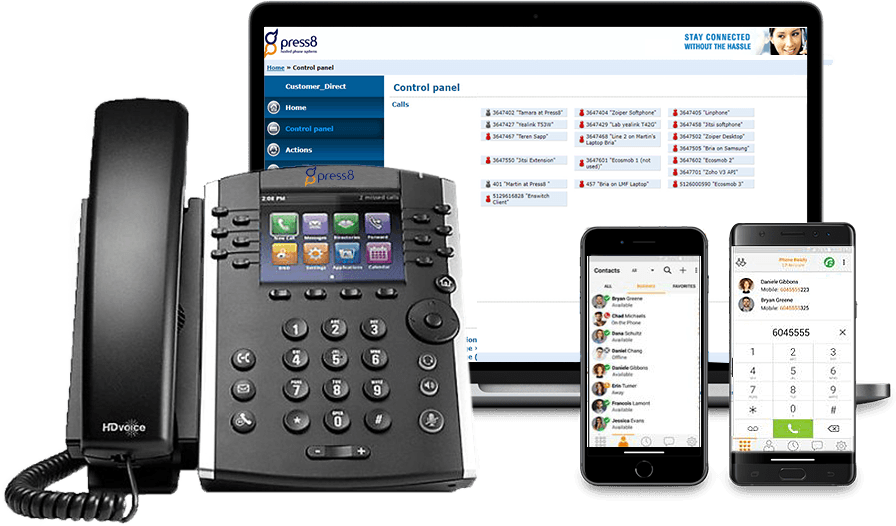 0
+
UNITED STATES CITIES SERVED
Customer Reviews
We get people talking
Couldn't Be Happier
"Press 8 got our office set up with a system specific to our needs and we couldn't be happier with the results. Top-notch customer service at a fair price. I would highly recommend this company to anyone in need of a VOIP system."
Dane R. Cuppett
Extremely Affordable
"Press8's hosted PBX phone service allowed us to get our business up and running instantly, even before we had a physical location for our office! The service is extremely affordable as well …"
Karl Peters
Excellent Service
"Our clinic has been with Press8 for over 3 years now. [Press8] is prompt to address any concern or change request we have. We very much rely on our phone messages for scheduling and rescheduling our patients. A big Thank You to Press8 for the excellent service."
Kathy Rodela
Texas Physical Therapy Specialists
First Rate Quality
"We have used Press8 since their company was started. They always provide us with first-rate quality, service, pricing, and simple billing. Their system is easy to understand, and the settings are simple and intuitive. When we have questions or need assistance, they're always Johnny on the Spot."
George Lindenberg
Our Best Choice
"Having found ourselves in a position to replace our phone system, Press8 proved to be our best choice. Since high quality is most important to our firm, we want to share our great experience so far with Press8 VOIP phone system… Press8 VOIP phone system has definitely delivered."
Ali Kahataw, P.E.
Encotech Engineering Consultants
Extremely Satisfied
"Our law firm has been using Press8 for almost a year now and we are extremely satisfied with the system, the customer service and the ease of use. The features are user friendly and tailored to meet our firm's needs. I would recommend Press8 to anyone looking for a state-of-the-art phone system."
Stephen M. Putonti
We Are a Happy Customer
"We are entering our second year with Press8 and we are a happy customer. We have some complexity with respect to our operations and we do lots of international calling – all of this is handled seamlessly by Press8's team. We have not had a single technical issue and Press8's team is always quick to respond … I recommend Press8 without reservation."
Matt Polak
Latest Posts
Office holiday parties have been around since there have been offices. Remote work has been the norm for many workers since the…
Continue Reading
From mid-November through January 1, life becomes busier for small businesses and their customers. Businesses begin yearly promotions and add new products…
Continue Reading
In today's digital era, social media has become a powerful tool for businesses to connect with potential customers and generate leads. By…
Continue Reading